Well Happy Birthday to me!!!!!! YAY I can't believe I am already 22, I feel like I just turned 21 and here I am pregnant with my second child!!! Time sure flyes by! Since its my birthday, I can give gifts if I want to! Woo Hoo! The ladies from
Scrappinfreestyle
have given me lots of goodies and coupons! But I am sharing them with you (with their permission of course!) cause its my birthday lol.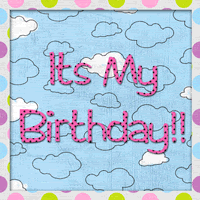 Dawn, Owner of
SFS
has given me the right to offer one of you lucky readers a
FREE

personal Team kit
of your choice! Isn't that awesome??? All you have to do is post a comment on which kit you'd like if you won, and for more entries, (in a separate comment) let me know you have added my Birthday button. And if I have lots of entries I might have to throw something else in there!! Hint:
$
hehe so get to posting!! Winner for this giveaway will be announced sunday the 12th.
But it doesn't stop there because there will be more things, check back tomorrow, and the day after that (and the day after, get the point? hehe) because there will be more goodies!!