Hi all so I haven't updated my blog in like 2 months, I suck! lol Well I'm here with lots to say. First, I went to california adventure park at disneyland yesterday and it was lots of fun!!! My husband and I took my son to watch the Disney's Playhouse live. He had sooo much fun! He loves Mickey and Rocket (little Einsteins) and Buzz lightyear. We got on the new Monster's Inc ride, he didn't recognize the character's yet he has only seen the movie like twice. He was pooped at the end of the day, lol!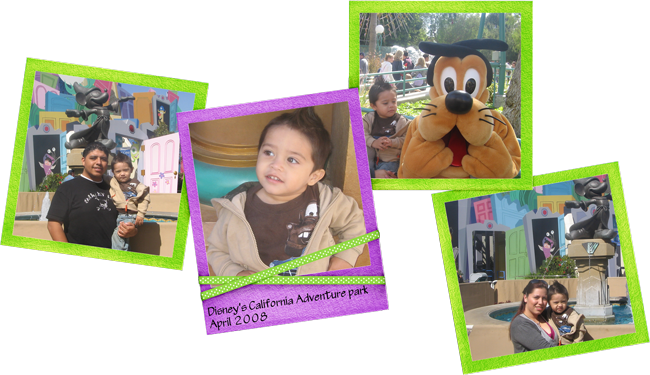 (Frames by Sophia Sarducci from On vacation kit #5, the elements)
OK so I also have new products in my store at Scrappinfreestyle.com. ( Also my store at digiscrapshak.com will be closed for 2 months, because the owner needs to take sometime off, and take care of her family, so prayers for her) So remember I said Jayden likes Buzz lightyear (hint: up on the top paragraph, lol)? Well I had to make a kit for his Halloween pictures (yes I am super behind on my scrapbooking), and other buzz stuff. Well I asked for feedback on what you'd like to see and I got a lot of it! It was sooo much in fact, that I had to ask for help from my fellow SFS designer
Michelle Herron
,
and we split it into 2 huge kits!
To Infinity... & ...And Beyond! Sounds familiar?lol. Click on the previews to be directed to the store.
Here is the To Infinity... kit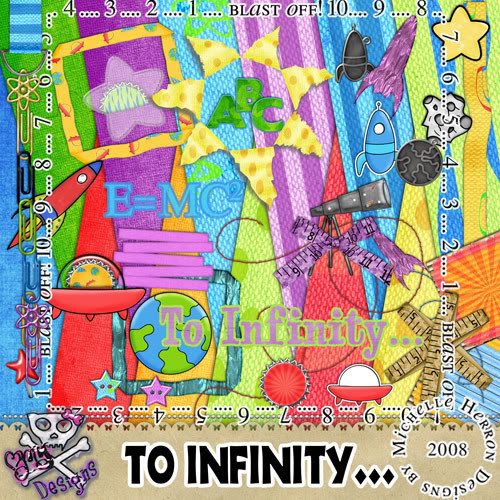 and here is the ...And Beyond! kit
Isn't it awesome??? (toot) I am really proud of this kit and I think Michelle and I make a great team! I love her doodles and her very realistic elements. There is a lot of cool stuff in both kits, you get a little of both of urs stuff in each.
We also have a Bracket Album that fits on the basic grey chipboard bracket album.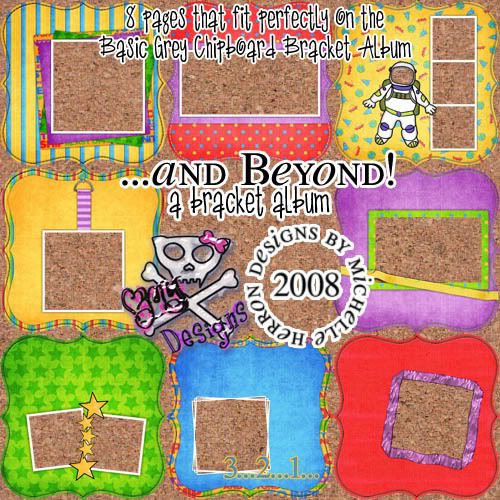 and Michelle made a freebie just for you, but you have to visit her blog to get it. Just click on the preview and it'll take you there
Wow thats a lot of information isn't it??? BUT I'm not done...
Autism! Need I say more? 1 out of 150 kids will be affected by autism, those are not very good odds, and you don't when it'll happen, for most kids it happens very early in their lifes. Now I thank God that Jayden has not been diagnosed or even thought of being Autistic but he is only 2 so I pray that in the future he doesn't. Well I support this cause a lot and I was very lucky to be a part of a very good thing. One of our fellow designer's grand daughter is autistic and they need money to raise awareness. Well what can us DigiDesigner's do?? Make a kit of course!!!
walk
Scrap Now For Autism: For The Love of Mckayla by 32 designers!!!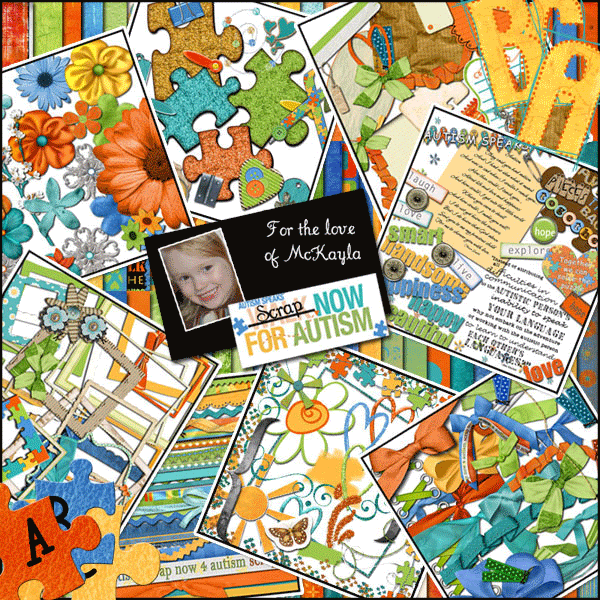 and here was my part, (its included in the kit)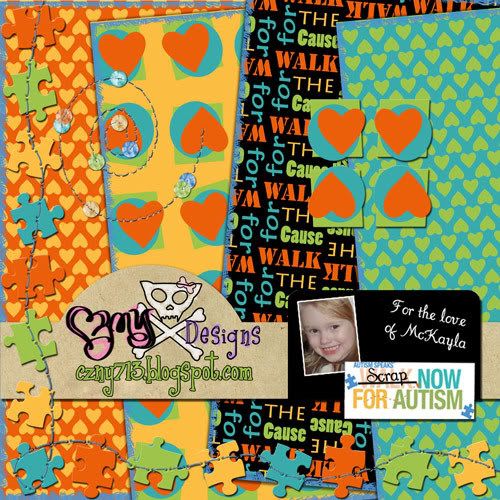 the only way you can get this kit is to donate 20 dollars or more, thats it! I know its maybe a little more than we would want to pay for a kit, but don't see it that way, See it as donating to a great cause and getting this Awesome and Huge kit for free! It really is a great thing and I hope some of you do it. You can find more information at
this website
.
Well I think I have covered my 2 months of MIA don't you think? Well I promise to be here a little more, until then Have fun!!
***PinkShoelaces