Helo Me again!! Well I have been super duper busy lately! It conference season at my job and I have been busy making sure we have everything ready (which we don't) The conference is at the end of june 3 weeks from now!! Its my first big conference so I am excited and nervous at the same time!!
Well anyways I took time out of my busy schedule to post something I am very excited about!! I get to post my first review! YAY fo me!! The reason I am very excited about this its because its about a Photobook/Scrapbook!

A fast growing Company called MyPictales, they make custom photobooks, calendars, cards and much much more. You can learn more about them here
Mypictales
With a new wave of digiscrappers and the need to print their beautiful Layouts without costing an arm and leg, Mypictaes has made it easier to do just that: print quality products that will enhance your already beautiful Layouts.
And now you will be excited!! Would you want to win your own photobook? Well all you have to do is sign up at mypictales, leave a comment here with your name and Mypictales username, and if you would like girlie or boyish scrapbook pages. That is all! Easy, right?
Here is what you get:
♥ 1st place winner
will get a 10x10 custom photobook like this one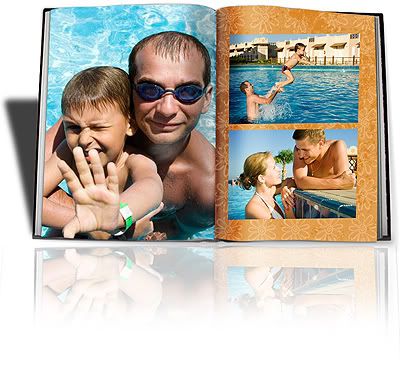 & both sets of Layout templates for your photobook.
♥ 2nd & 3rd place winners
will get a choice of one of the Layout templates
I will post previews of the Layouts in a couple of days! So what are you waiting for? Go sign up and leave me a comment!